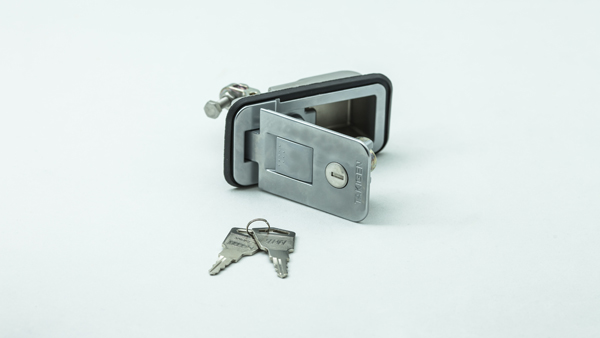 This direct imported Takigen zinc alloy one-touch adjustable catch for airtightness is finished in satellite chrome plating. This flush mount catch only protrudes 4mm past the door panels face. Fine adjustment of the door tightness can be made with the adjustment screw. Lockable with a reversible key and dust-proof shutter, a waterproof seal is also provided by the rubber mounting gasket. We also manufacture a mounting kit for this lock that compliments our StyroSEAL/LT hatch door extrusion.
For StyroMAX Fibreglass Composite panel customers (i.e you have a current or previous STMA number) the kit price is: $91.30/each.
For Non-Fibreglass Composite panel customers (i.e. you are not purchasing panels from StyroMAX) the kit price is $100.43/each.
Kit includes:
Lock;
Mounting screw;
Cover plate;
Keys;
Catch striker plate and;
Mounting hardware.